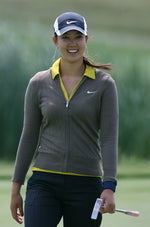 Michelle Wie West is a name that has become synonymous with women's golf. The Hawaiian-born athlete has achieved numerous accolades throughout her career, becoming not only a trailblazer in her sport but also a powerful advocate for women's empowerment and diversity.
Wie West was born in Honolulu in 1989 and began playing golf at the age of four. Her natural talent was immediately apparent, and by the time she was a teenager, she was already competing against professionals. In 2003, at the age of 13, she became the youngest player to ever qualify for an LPGA tour event. From there, her career took off, with numerous victories and awards, including the prestigious US Women's Open in 2014.
But Wie West's impact on women's sports goes far beyond her accomplishments on the course. Throughout her career, she has been a powerful advocate for diversity and inclusion in golf and beyond. As a biracial woman, Wie West has faced discrimination and racism throughout her life, but she has never let it hold her back. Instead, she has used her platform to raise awareness about issues of inequality and to inspire other women and girls to pursue their dreams, no matter what obstacles they may face.
In addition to her advocacy work, Wie West has also been a role model for young women in Hawaii, where she is regarded as a hometown hero. Her success on the national and international stage has put the spotlight on the state's athletic talent and has inspired countless young girls to take up golf and pursue their own dreams of success.
But Wie West's impact extends far beyond the world of golf. In recent years, she has become a vocal advocate for gender equity and women's empowerment, using her platform to raise awareness about issues such as equal pay and representation. In 2019, she gave birth to her first child, a daughter named Makenna, and has been an outspoken advocate for mothers in sports, calling for greater support and resources for athletes who are also parents.
Wie West's influence can also be seen in her work as a designer and entrepreneur. In 2019, she launched a line of women's golf apparel called "MW," which she described as "a reflection of who I am and what I stand for - empowering women, pushing boundaries, and pursuing your passions." The line features bold, colorful designs and aims to break down the barriers between traditional golf attire and everyday fashion. Wie West has also been involved in various philanthropic endeavors, including supporting the Hawaii Foodbank and working with the First Tee, a nonprofit organization that promotes youth development through golf.
As we celebrate Women's Month, it is important to recognize the impact that women like Wie West have had on the world of sports and beyond. Through her talent, her advocacy work, and her entrepreneurial spirit, she has become a true hero for young women and girls everywhere, showing them that anything is possible with hard work, dedication, and a commitment to breaking down barriers and pushing for change.
In the end, Michelle Wie West's legacy will be defined not only by her incredible accomplishments on the golf course, but also by her tireless work to make the world a better, more equitable place for women and girls. She has inspired a generation of young athletes, entrepreneurs, and advocates, and her impact will be felt for years to come. As we continue to celebrate Women's Month and honor the achievements of women around the world, let us remember the trailblazers like Wie West who have paved the way for a brighter, more inclusive future.
Photo: by Keith Allison 
CC