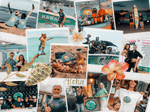 Welcome to the refreshing world of greenteaHAWAII, where the potent extracts from lush green tea power our instant, functional, and nootropic tea powders. Born on the picturesque North Shore of Oahu in July 2010, this brand has captured the hearts and taste buds of functional food & beverage enthusiasts worldwide. 
At the helm of greenteaHAWAII is Chris Boling, a passionate entrepreneur who took over as the owner in 2012. With a successful career as a distributor of the brand, Chris recognized the immense potential of greenteaHAWAII and embarked on a mission to enhance the formulas and introduce more island-inspired flavors.
One of the most striking claims of greenteaHAWAII is its impressive antioxidant content. With a staggering estimated 45 times the antioxidant benefit of regular leafy green tea, this brand offers a powerful way to infuse your daily routine with a burst of natural goodness. It is all nature. Although greenteaHAWAII doesn't make explicit health-related claims, customers have shared countless stories of the positive impact they've experienced after incorporating greenteaHAWAII into their lives, enjoying it at least twice a day. Frequent customer reviews mention fat loss and improved cardiovascular-related conditions. 
greenteaHAWAII was a nootropic beverage on the scene before it was on-trend with additional alpha brainwave supporting L-Theanine, plus Polynesian noni fruit extract. What sets greenteaHAWAII apart is not just its exceptional product but also the glowing reputation it has garnered on the trusted third-party review platform, Trustpilot. With consistently high ratings, the brand has proven time and again that it delivers on its promise of excellence and customer satisfaction.
Indulging in greenteaHAWAII is an experience that transcends the ordinary. With each sip, you'll find yourself transported to the pristine shores of Hawaii, where each flavor captures the essence of the islands, quenches your thirst, and best of all, promotes and maintains a state of well-being naturally.
Whether you're seeking a refreshing pick-me-up (60mg of caffeine), a natural source of antioxidants, or a moment of tranquility amidst a hectic day, greenteaHAWAII offers the perfect companion. Discover the flavors that speak to your soul and embark on a journey of wellness and vitality with greenteaHAWAII.
Join the countless individuals who have embraced greenteaHAWAII as a daily regimen, and experience the improvements for yourself. Your taste buds and your whole body will thank you.

Today through July 31, 2023, customers save $20.00 for every box purchased. This is a time when our long-time customers like to stock-up, and why wouldn't they? 

✨ 🙏 Mahalo to our greenteaHAWAIII Ohana for an outstanding 13 years!