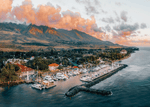 Aloha dear friends,
In the heart of the Pacific, where pristine beaches meet majestic mountains, the islands of Hawaii hold stories of natural beauty, rich culture, and resilient communities. One such story unfolds on the northwest end of Maui, where Lahaina, a vibrant town once bustling with life, was struck by a devastating fire on August 8th. This event has touched us deeply at greenteaHAWAII, and we are committed to standing alongside the people of Maui in their time of need.
As the President and CEO of greenteaHAWAII, I have had the privilege of witnessing the magic of these islands and the indomitable spirit of their residents. Our journey began on the North Shore of Oahu in 2010, and over the years, we've become more than a wellness beverage company – we've become a part of the Hawaiian ohana (family).
Through the entire month of August, we're extending a hand of compassion and solidarity. We're not only offering discounted prices on our 60-serving boxes of functional, instant wellness tea, but we're also taking action to make a difference. For every full-sized box of our tea you purchase, we will contribute $10.00 to the Hawaii Community Foundation's fund for Maui Strong. This initiative aims to assist those who have been impacted and displaced by the tragic fires that swept through the island.
The bond we share with Maui runs deep. We've had the privilege of serving the people of Maui for many years, and through those interactions, we've developed genuine relationships with those who call the island home. It's these connections that make the pain and devastation they're facing even more poignant. Our hearts ache, but they are also filled with a determination to see the community heal and flourish once again.
In times of crisis, it's paramount that our efforts make the most significant impact. That's why we've chosen to channel our support through the Hawaii Community Foundation's Maui Strong fund. This platform ensures that the funds collected reach the heart of Hawaii and the communities that need it most. Our commitment to giving back to these islands remains unwavering, and we believe this is a powerful way to contribute to Maui's recovery.
To all those who have enjoyed the taste of Hawaii in every sip of our tea, we invite you to join hands with us in this mission of hope and renewal. It's simple to make a difference: purchase any full box of our functional, instant tea, and $10.00 from each box will go directly to the Hawaii Community Foundation's fund for Maui Strong. By indulging in wellness, you also indulge in the spirit of aloha and unity.
The road to recovery may be long, but the journey is lightened when we walk it together. Let us lift Lahaina, Maui, and its impacted communities in our thoughts, actions, and hearts. As we sip our tea, let's remember that every cup represents a promise – a promise to rebuild, rejuvenate, and restore. With your support and the power of our collective compassion, we can be a beacon of light for Maui's future.
Mahalo nui loa (thank you very much) for your unwavering support and being part of our extended ohana.
With heartfelt aloha,
Chris Boling
President and CEO, greenteaHAWAII