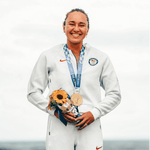 Carissa Moore is a Hawaiian professional surfer who has made history with her remarkable achievements in the sport. Born on August 27, 1992, in Honolulu, Hawaii, Moore grew up in the small town of Waikiki, where she fell in love with the ocean and the waves at a very young age. Her father, Chris Moore, was a competitive surfer, and he introduced her to the sport when she was just four years old.
Moore quickly developed a passion for surfing and began competing in local competitions when she was just five years old. She started competing in professional events when she was 14 and quickly made a name for herself in the surfing world. In 2011, at the age of 18, she became the youngest person ever to win a world surfing championship.
Moore's surfing career has been nothing short of remarkable. She has won a total of five World Surf League (WSL) championships, four of which were consecutive titles from 2013 to 2016. She has won 30 career WSL events and has earned over $2.7 million in prize money. She has also represented Hawaii in the ISA World Surfing Games, winning a gold medal in 2008 and a silver medal in 2010.
In addition to her success in competition, Moore has also been a trailblazer in women's surfing. She has been a vocal advocate for gender equality in the sport and has pushed for equal pay and more opportunities for female surfers. In 2019, after a sustained effort by Moore and other female surfers, the WSL announced that it would be awarding equal prize money to male and female surfers in all of its events, making it the first major US-based sports league to do so.
Moore's advocacy for women's surfing has been particularly impactful in Hawaii, where she has helped to inspire a new generation of female surfers. She has worked with the state's Department of Education to create a program that encourages young girls to get involved in surfing and has served as a mentor to many aspiring female surfers.
Moore's impact on the sport of surfing extends beyond her competitive achievements and advocacy for gender equality. She has also been a pioneer in terms of her approach to surfing. She is known for her aggressive and dynamic style, which has helped to redefine what is possible on a surfboard. She has introduced new maneuvers and techniques to the sport, including the backflip, which she landed for the first time in a competition in 2019.
Moore's contributions to surfing have not gone unnoticed. In 2019, she was named one of Time Magazine's 100 Most Influential People in the World. The article that accompanied her inclusion in the list praised her for "changing the face of surfing and showing the world what it means to be a true champion."
Moore's impact on surfing is especially significant given the sport's cultural significance in Hawaii. Surfing has been a part of Hawaiian culture for centuries, and Moore's success has helped to raise the profile of the sport in the state. She has also been an advocate for preserving the cultural and environmental heritage of Hawaii. In 2021, she joined other prominent Hawaiian surfers in calling for the protection of the sacred waves at Oahu's Waimea Bay, which are threatened by proposed development.
Moore's achievements in surfing and her advocacy for gender equality have made her a role model for young girls worldwide. She has shown that it is possible to succeed in a male-dominated sport while also pushing for change and positively impacting society. As she continues to compete and advocate for women's surfing, she will inspire the next generation of female surfers to follow in her footsteps and make their mark on the sport.