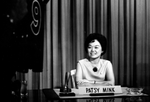 March is Women's History Month, a time to honor the achievements of women throughout history and recognize their contributions to society. One Hawaiian woman who made a significant impact on American politics is Patsy Mink.

Patsy Mink was born in Hawaii in 1927 and was the first woman of color to serve in the United States Congress. She attended the University of Hawaii and later graduated from the University of Chicago Law School. Mink was known for her dedication to civil rights and gender equality, and she spent her career fighting for these issues.

Mink's political career began in 1964 when she was elected to the House of Representatives. She represented Hawaii's second congressional district and served for 12 terms. During her time in Congress, Mink worked on various issues, including education, health care, and women's rights.

One of Mink's most significant accomplishments was co-authoring the Title IX Amendment of the Higher Education Act. This amendment prohibited gender discrimination in education programs receiving federal funds. Mink's work on Title IX profoundly impacted women's access to education and sports opportunities. In addition, it has been instrumental in creating more equal opportunities for women in academia and athletics.

Mink's dedication to gender equality and civil rights was also reflected in her personal life. She was a trailblazer as a woman of color in Congress and faced discrimination and sexism throughout her career. Mink also faced challenges as a mother, as Congress was not a family-friendly environment at the time. She once brought her daughter to a committee meeting, which was against the rules, and was reprimanded for it. However, Mink did not let these challenges stop her from fighting for what she believed in.

Mink's work has had a lasting impact on American politics and society. When gender equality and civil rights were not as widely accepted as they are today, Mink was a beacon of hope for those who believed in these causes. Her legacy lives on today, and we continue to fight for the issues she cared about.

One notable quote from Patsy Mink is:
"As a woman and as a minority, I have been able to get legislation through Congress that never would have passed without those perspectives."
This quote highlights the importance of diversity in politics and the value of having voices from all backgrounds and perspectives represented in government. Mink's experience as a woman of color gave her unique insight into the issues facing women and minorities in America, and she used that insight to make a positive impact on society. Another well-known quote is:
"It is easy enough to vote right and be consistently with the majority. But it is more often more important to be ahead of the majority and this means being willing to cut the first furrow in the ground and stand alone for a while if necessary."
To sum our tribute up, Patsy Mink was an inspirational figure who fought tirelessly for gender equality and civil rights. Her work on Title IX has been instrumental in creating more equal opportunities for women in education and sports, and her legacy lives on today. Mink's dedication to her beliefs and willingness to face discrimination and sexism head-on make her a role model for all women. Her quote about the value of diversity in politics is just as relevant today as it was when she said it. As we celebrate Women's History Month, we should remember the contributions of women like Patsy Mink, who have significantly impacted our society and continue inspiring us to fight for a more just and equal world.