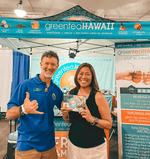 greenteaHAWAII was at the Sports, Health, and Fitness Expo held February 18 - 19 at the Blaisdell Exhibit Hall in Honolulu. Owner & President, Chris Boling is pictured with long-time customer who enjoyed on-site savings shopping at the event. The event was followed by the Great Aloha Run, returning for the first-time since 2020.
Since 1985, the Hawaii Pacific Health's Great Aloha Run is an 8.15-mile run. The run starts at Aloha Tower in downtown Honolulu and finishes at Aloha Stadium in Hālawa. Founded by Dr. Jack Scaff (also founder of the Honolulu Marathon) and Carole Kai, the run has raised $16 million for local charities and supported more than 150 nonprofit organizations (WOW!). Open to runners of all levels and ages, the annual race averages about 20,000 participants. People also attend the Sports, Health, and Fitness Expo, which may bring an estimated 50,000 to the area.
The Great Aloha Run went virtual in 2021 and 2022 because of the pandemic. That's why this year's run is the first full-blown one since February 2020, and we were thrilled to be a part of it. For folks who would prefer to run without the crowd and at their own pace, participating virtually is still an option.
We enjoy representing at events alongside the Great Aloha Run, and sharing our functional, instant green tea drink. It has numerous health benefits, and incorporating it into a healthy lifestyle can have positive effects on overall wellness. 
Here are some of the ways in which greenteaHAWAII can be a part of a healthy lifestyle:
Antioxidant-rich: Green tea contains powerful antioxidants called catechins that help protect cells from damage caused by free radicals. Consuming green tea or products like greenteaHAWAII that contain green tea can boost antioxidant levels in the body and support overall health.

Supports weight management: Green tea has been shown to boost metabolism and increase fat burning, making it a popular ingredient in weight loss supplements. greenteaHAWAII products are formulated to support healthy weight management and can be used as part of a balanced diet and exercise plan.

Promotes relaxation: Green tea contains the amino acid L-theanine, which has been shown to have calming effects on the brain. Drinking green tea or taking greenteaHAWAII products that contain green tea can help promote relaxation and reduce stress levels.

Boosts energy and focus: Green tea contains caffeine, a natural stimulant that can improve mental alertness and energy levels. greenteaHAWAII products can provide a natural energy boost without the jitters or crash associated with other caffeine sources.

Supports healthy skin: Green tea has been shown to have anti-inflammatory and antioxidant properties that can help improve skin health. 
Incorporating greenteaHAWAII into a healthy lifestyle can provide numerous benefits for overall health and wellness. As with any supplement or dietary change, it's important to consult with a healthcare professional before making any significant changes to your routine.