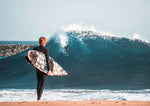 What makes surfing possible?
A wave is a disturbance that travels through space and time, typically on the surface of a body of water. It is characterized by its height, length, and period (the time it takes for two successive crests to pass a fixed point). Various factors, including wind, earthquakes, and underwater landslides, can cause waves.
On the other hand, a swell is a long-period wave that has traveled some distance from its point of origin. Swells are typically caused by distant storms or other weather systems and can travel for thousands of miles before reaching the shore. They are characterized by their height, period, and direction of travel.
In terms of surfing, waves and swells are essential because they create the conditions that allow surfers to ride on the water. Waves and swells that are larger and more powerful are typically more desirable for surfing, as they can create more challenging and exciting rides. The direction of the swell is also important, as it determines the direction that the wave will break and can affect the quality of the ride. Learn more about current Hawaiian island's surfing conditions live at the Surf News Network.
The Eddie Aikau Returns After 7 Years!
Wave conditions set the scene for the return of the Eddie Aikau surfing competition, also known as the Quicksilver Eddie Aikau Big Wave Invitational in Memory of Eddie Aikau. This is a prestigious big wave surfing event held in Hawaii. The competition is named in honor of Eddie Aikau, a legendary Hawaiian surfer and lifeguard considered one of the most incredible big wave riders of all time. The event is held at Waimea Bay on the North Shore of Oahu and is only held when the wave conditions are deemed suitable for big wave surfing, typically when the surf is at least 20 feet high.
The event was first held in 1984 and is considered one of the world's most prestigious and respected big wave surfing competitions. The competition features some of the best big wave surfers from around the world and is known for its high skill level and athleticism.
Until this year, the last time the Eddie Aikau competition was held was in December 2016 and was won by John John Florence. The competition is not held every year. Depending on the weather conditions, the Eddie Aikau event is typically held every few years when the surf is suitable. That's why this 2023 event was highly momentous because conditions hadn't been sustained for the competition in 7 years. Newcomers were eager to compete, including Waimea lifeguard Luke Shepardson. 
Luke Shepardson is more acclimated with saving lives than winning worldwide surf contests, however, on Monday the lifeguard saw off the absolute greatest names in the game to guarantee triumph at the Eddie.
Shepardson needed authorization from his supervisor to get time off from his post as lifeguard to contend in the subtle occasion, which tosses professional and amateur surfers together in enormous waves. 
Shepardson, 27, scored 89.1 of a potential 90 to guarantee the title and $10,000 prize cash. As he joined Florence and other past victors, including Kelly Slater, Bruce Irons, and Ross Clarke Jones, he was raised up in festival around the ocean - still clad in unmistakable yellow and red lifeguard clothing.
World Surf League (WSL) Championships for 2023 begins today, January 29th, and through February 10th with the Billabong Pipeline Pro. 🏄🏾🏄🏽‍♀️ SCHEDULE, CURRENT STATS, AND WHERE TO WATCH HERE
What's greenteaHAWAII?

greenteaHAWAII is a highly-antioxidant and immunity-boosting energy beverage featuring green tea extract, nootropic, L-Theanine, and Polynesian noni fruit. With only 60 mg of caffeine, it's suitable to consume throughout the day without triggering an anxious adrenaline response. The additional L-Theanine supports alpha-wave activity for focus and, with continued use, improves the quality of sleep. greenteaHAWAII is the ideal functional, instant beverage for active lifestyles; just add water. Rated 4.8/5 on Trustpilot by new and longtime customers. Our company ranks top 10 among Tustpilot's Best Health & Beauty Shops. If you want to feel your best each day, commit to a daily regime of our functional tea beverage today. Live in Gratitude!